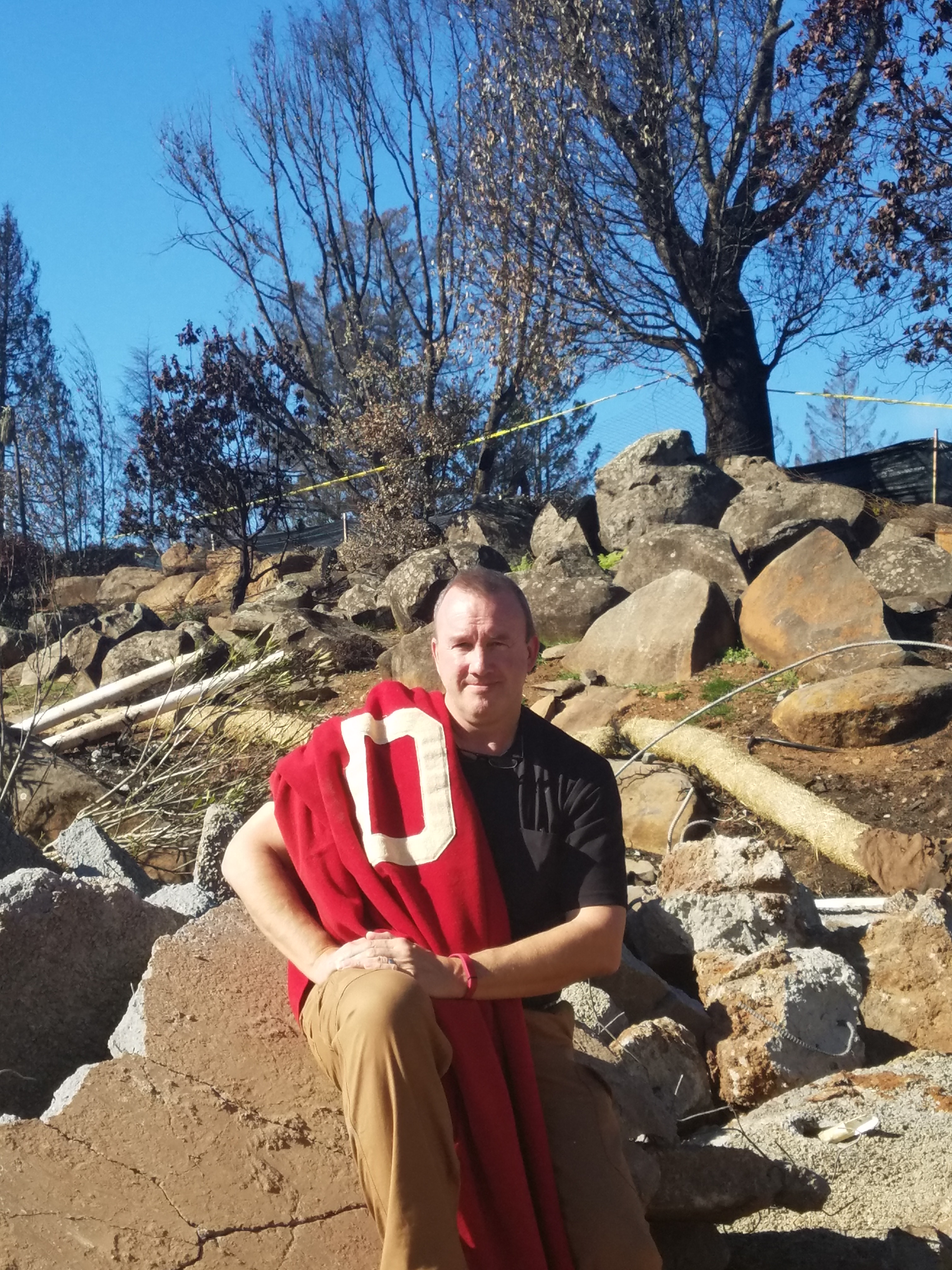 I played football for Denison University. Last century, I tell people now that I solidly am middle-aged. The culmination of my football experience came at the football banquet after the end of the 1985 season when I received my Varsity D blanket, which is awarded to senior varsity letter winners. My Varsity D blanket represented the blood, sweat, tears, and most importantly, the joy of my four-year journey. The joy of completing the first (and only) undefeated season for our veteran coach, the joy of winning the first NCAC football championship for our school, the joy of forging an unbreakable bond with my teammates.
Early in the morning of October 9, 2017, my house burned down in a wildfire that torched Santa Rosa, California. My wife, son, and I escaped on foot with the clothes that we hurriedly put on and nothing else. Other than that, I lost everything.
Please understand that I am grateful – 22 people died before the sun rose that day. At the same time, I am a bit sad about the loss of some mementos, including my Denison keepsakes.
I lost my Varsity jacket. I know, I know. I have not worn it since a Halloween party twenty years ago or so when I went as myself circa 1986, complete with a wig to compensate for my thinning hair. I still remember wearing it for the first time, proudly strolling Chapel Walk on my way to the Quad for classes a long winter morning ago. I smiled every time that I saw the jacket in the back of our hall closet.
I lost my championship ring. I did not wear it every day, but when I wore it that meant it was a special day. I enjoyed when people asked me about it. I would tell them about the Single Wing and being mentioned on The NFL Today. I smiled every time that I put my championship ring on.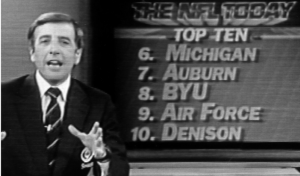 I lost my photo taken in the Atlanta Airport in between connecting planes on our way to San Antonio for a game against Trinity University. Brian Newkirk, Sean Kiener, and I are in the photo –fellow offensive lineman and friends for life. We were young and happy in the way that only college seniors get to be. I smiled every time that I looked at that picture.
After wandering around in a haze for about a week after the fire, we started putting our lives back together. We found a house to rent. Our son's school reopened. I started thinking about work and getting new clothes. I am a lawyer, so I needed shirts, ties, and suits for court appearances.
I decided to go to our dry cleaners and see if I had dropped off any clothes before the fire. So much had happened that I could not remember. I am a regular, so I told the owner my story and asked whether I had any clothes. I did not have a ticket, so she went to the back and looked. After a minute or so, she came back with my Varsity D blanket.
I was gobsmacked – utterly astounded if you never have made the acquaintance of someone from the United Kingdom. Then, I remembered taking my Varsity D blanket to the dry cleaners in late September. I had taken it out on a cool fall evening and decided that it was time for the expensive, once a decade dry cleaning. When I offered to pay for it, she refused; and in a teary voice told me to just take it.
Now I smile every time that I see my Varsity D blanket in my closet in our new house.
Go Big Red!