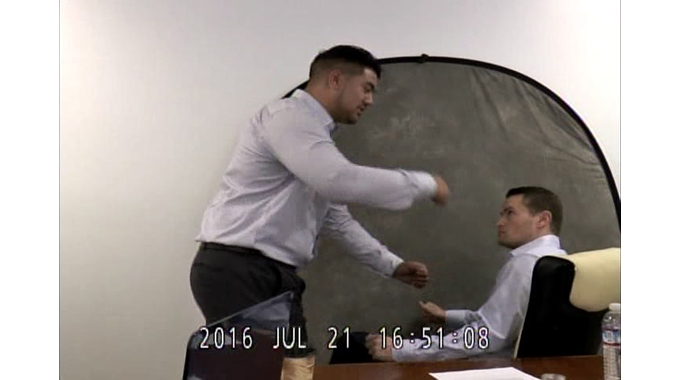 The Gearinger Law Group, along with the law firms of Greene, Broillet & Wheeler LLP and the Law Office of Joseph S. May, reached a settlement for $5,000,000 on the first day of trial in the San Francisco County Superior Court.
Joseph May brought in Brian Gearinger as co-counsel to assist in preparing this case for trial.
The underlying facts were undisputed and were as follows:
On March 19, 2015, plaintiff Anthony Ghanayem, 26, was driving north on Laguna Honda Blvd. in San Francisco. Defendant Alofaga Tagaloa, a paratransit van driver employed by Transdev Services, was traveling in the lane next to the plaintiff. As the two lanes began to merge into one, plaintiff pulled ahead of Tagaloa's vehicle.
While stopped at a red light at the intersection of 7th Ave. and Warren Drive, plaintiff exited his vehicle to confront Tagaloa, claiming Tagaloa was tailgating him and an altercation ensued.
Plaintiff sued Tagaloa and his employer, Transdev Services.
Brian's main contribution was taking the nearly seven-hour videotaped deposition of Defendant Tagaloa. During a break in the deposition, Joseph came up with the idea to have Defendant reenact how he stood over Plaintiff and struck Plaintiff while Plaintiff was seated. (After the initial altercation, Plaintiff retreated to his vehicle, but Defendant prevented Plaintiff from closing his driver's side door by standing between the door and the car.) "Show me" questions are permitted at a videotaped deposition. ["We conclude that Code of Civil Procedure section 2025, subdivision (o ), should be construed to include nonverbal as 1112 well as verbal responses at a videotaped deposition—which may require a deponent to perform a demonstration or reenactment at the request of a party." Emerson Electric Co. v. Superior Court (1997) 16 Cal.4th 1101, 1111–1112.] See the attached photo of Joseph admirably playing the role of Plaintiff.
During the work up of the damages portion of the case, Plaintiff underwent a high-quality MRI of his brain. Susceptibility-weighted imaging taken as part of the MRI revealed the presence of a small bleed in Plaintiff's brain. Despite the presence of this "microbleed", Defendants denied liability.
As trial approached, Joseph brought in the renowned law firm of Greene, Broillet & Wheeler, LLP. It is an understatement to report it was a highlight of Brian's legal career to get to meet and work with Browne Greene and Ivan Puchalt. Browne is a living legend in the plaintiffs' bar, and Ivan is on his way to taking his rightful place alongside the great plaintiffs' attorneys in California.
Long story short, Joseph and Ivan did most of the work preparing the pre-trial submissions. We conducted a one-half day focus group shortly before trial. While we were waiting for the presiding judge to assign the case to a trial court, we started settlement discussions. On the day that the case was assigned to a trial court, the case settled for $5m; that is, the $1m primary policy and the $4m excess policy.
Brian received a letter from Browne after the case resolved, which provided in pertinent part: "I do have say that you take great depositions."
This great result was the product of a team effort.