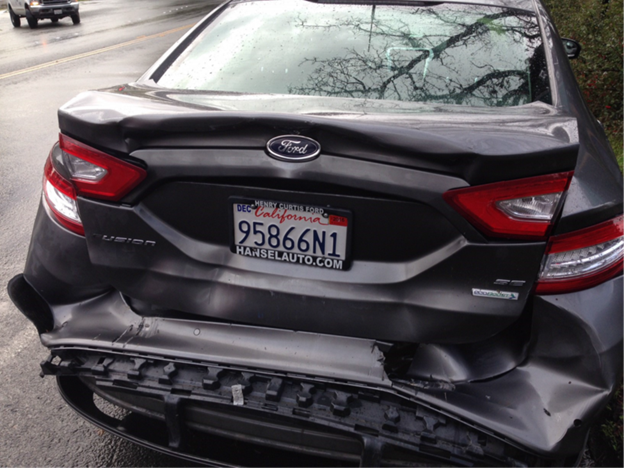 This case arose out of a three-vehicle collision that occurred January 6, 2016 at approximately 2:15 PM, on the Todd Road overpass at Highway 101 in Santa Rosa. Plaintiff was stopped in her vehicle when she was suddenly, and without warning, struck from behind two times. The multiple impacts caused Ann to strike the headrest of her vehicle forcefully.
The Parties
Brian Gearinger of the Gearinger Law Group represented Plaintiff. Plaintiff was driving a 2014 Ford Fusion.
Defendant and Cross-Complainant Samuel Winglewich was driving a 1998 Ford Ranger pickup that was owned by his father, Don Winglewich. Winglewich was the second car in the sequence, and Plaintiff alleged that Winglewich struck her car first.
Defendant Omar Gutierrez was driving a 2008 Ford E-350 van that was owned by his employer, Defendant Santa Rosa Rent A Car, LLC, dba Smith's Rent A Car ("Santa Rosa Rent A Car"). Plaintiff alleged that Gutierrez struck Winglewich who, in turn, struck Plaintiff's car a second time.
Factual Background
The 2014 Ford Fusion Plaintiff was driving was declared a total loss once the repair estimate exceeded $14,000.
Gutierrez admitted to Plaintiff that he saw Winglewich's car too late and was going too fast to stop in time. Winglewich testified that Gutierrez hit his vehicle twice, causing his Ford Ranger to strike Ann's vehicle twice and causing his head to strike the back window of his truck, shattering it. Shortly after the accident, Gutierrez called an unknown person at Santa Rosa Rent A Car 5 times between 2:24 and 3:02 PM. As a result of Gutierrez' telephone call, Santa Rosa Rent A Car generated the following documents:
• 3:15pm – Rental Agreement 42461 opened by Anel Guzman; Total charges $140.71.
• 3:29pm – Rental Agreement 42461 Voided "Customer changed mind".
Settlement
Both individual drivers had the minimum automobile liability coverage of $15,000, and each paid that amount. In addition, Santa Rosa Rent A Car paid $15,000 despite its contention that it had no liability because its employee had rented the Ford E-350 van in his personal capacity and, as a result, the rental company contended that it was insulated by the Graves Amendment ("no vicarious liability on the part of a rental company for the negligence of their renters").
Conclusion
While the stakes in this case relatively were moderate, Plaintiff, a Sonoma County resident, was satisfied with the settlement.